How hot is… '
The Claiming of Beauty and the Beast

'?
by Bella Swann

reviewed by Reed James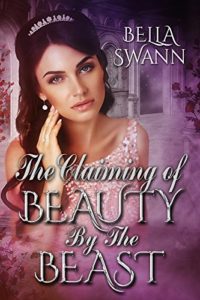 Young Beauty just wants to have a prince charming to love her, dreaming over the books she reads. But when she encounters two soldiers, everything changes for Beauty. She finds herself submitting to their naughty desires, her body responding to their domination. Her life is upturned as the men in her life see her as a woman in need of their passion.
And things only get naughtier for Beauty when a wicked fairy comes to her with an offer. Her father, overdue on a long trip, languishes in the Beast prison. To free him, she'll have to take his place and submit to the domination of the Beast. Beauty finds her body eager to submit.
And she just might find what she craves.
Once again, Bella Swann has brought us another young woman in need of being dominated by everyone she meets. Beauty stumbles from one encounter to another, her body craving pleasures she could never imagine. Her pleasure sings out across the pages, keeping you turning to read what new naughty delight she'll experience.
If you're a fan of young woman submitting to the desires of dominating men, as well as kinky fun, then you'll love The Taming of Beauty by the Beast, the newest twisted fairy tale from Swann's depraved mind!
I give 'The Claiming of Beauty by the Beast' 5 of 5 pussy-soaked books! At $4.50, 'The Claiming of Beauty by the Beast' will turn your eReader into a submissive slut!
Available from Amazon and Amazon CA. You can find the catalog of Bella's work on Amazon, Smashword, and Lulu. Check out Bella's goodread blog, her youtube channel, like her on facebook page, and follow her on twitter @BellaSwannBooks.






by








by