Manga Review 'Magika Swordsman and Summoner 3'
Story by Mitsuki Mihara
Art by MonRin

reviewed by Reed James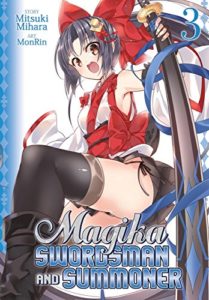 Kazuki has to increase the power of his summoning by growing closer with the various female summoners. Mio's affections are swelling now. But to stay in the Magicka school, Kazuki will have to prove his magical abilities. If he loses, he no longer will be allowed to live in the Witch's House, surrounded by the busty Mio and all the other hot girls.
But Kazuki's magical powers still are not that strong. And he's up against one of the best swordsmen. He'll need to use all his cunning and skill to defeat his opponent. Everything is riding on this one moment.
And in the background, his childhood friend Kaya plots her next move. Things are about to get a whole lot more dangerous for Kazuki and his friends.
Magika Swordsmen and Summoner continues where the last volume left off with its gorgeous art and sexy women. The action kicks in with this volume as the enemy of the series appears. Action and hot fanservice abounds in this exciting read.
If you're a fan of Harem stories and hot girls, then you need to check out this naughty manga series. This story has some great moments that you have to read to see for yourself!
I give 'Magika Swordsman and Summoner 3' 5 of 5 harem delights! At $8.99, this naughty manga is one exciting read!
You can buy it from Amazon!






by








by