Mrs. Fatima & Keily's Wicked Fun
Futa Fairies' Naughty Game 8
A naughty futa-fairy is granting wishes and making naughty girls and wicked women into futanari! You can buy Mrs. Fatima & Keily's Wicked Fun for $2.99 on Amazon, Amazon UK, Amazon CA, Amazon AU, Amazon FR, and Amazon DE!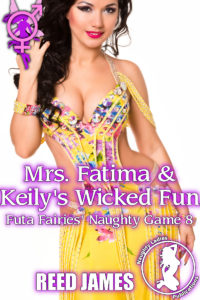 The futa-fairies' naughty game nears its climax as the futas wicked fun continues!
Things are heating up for the futas! Mrs. Fatima, the busty futa-MILF, is in one frisky romp with nubile Keily and the hot futa-reporter. But Mrs. Fatima has an advantage that will have both futas have naughty, wicked fun!
And while their futa-menage writhes in passion, the dominating futa-cop plays with the sexy Deidre. The naughty game nears its end as the futas enjoy their wicked delights!
Mrs. Fatima & Keily's Wicked Fun is a 7200 word futa-on-futa, fairy, magic, oral, anal, coed, masturbation, voyeurism, bondage erotica that is not for the faint at heart!
A Tale of the Futa-Fairy!






by








by