Manga Review 'How to Build a Dungeon: Book of the Demon King 1'?
Story by Warau Yakan
Art by Toshimasa Komiya

reviewed by Reed James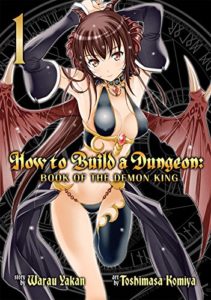 After searching for over fifty years, the mage Aur has finally found what he is looking for. A river of mana, the ethereal force that powers magic and monsters, flowing through the earth. A convergence of power that he can tap into and to make himself into the Demon King! After restoring youth to his body, he uses the mana summon the succubus Lilu to began his plans to build a dungeon to protect his greatest treasure: the source of his incredible power!
With the sexy succubus Lilu at his side, Aur sets out to conquer the surrounding villages. Meanwhile, he sets the succubus to building his dungeon, a vast labyrinth to confuse, delay, and defeat any would-be heroes that seek to plunder his treasure and take his life. But when one hero, a princess named Yunis, ventures into his dungeon, he faces his greatest threat. For she is born under the heroes star, fated to do great things.
Aur can either defeat her, risking his own life, or he can seduce the beautiful fighter into his growing harem!
How to Build a Dungeon: Book of the Demon King 1 is a harem manga that delivers the goods! The Demon King Aur enjoys the bevy of women that come to his dungeon to serve him whether they're naughty dark elves, sexy succubi, or hot warriors!
This manga is an inversion of JRPG style of dungeon crawling video games. Instead of being the hero plunging into the unknown, the story follows the dark and malevolent force who builds the dungeon. Aur is smart, cunning, and ruthless. But he's also practical. He doesn't waste anything, and if he can get better results through diplomacy or providing for those who he is conquered, then he will do that.
This is a fantastic manga with great art and lots of sexy fun! If you're a fan of harem erotica, and Japanese manga, need to check out this title.
I give 'How to Build a Dungeon: Book of the Demon King 1' 5 of 5 sexy succubi! At $10.16, this fun manga will is one hot read!
You can buy it from Amazon!






by








by