How hot is… 'Futanari Moans and the Mummy's Hand (Job)'?
by Sally Bend

reviewed by Reed James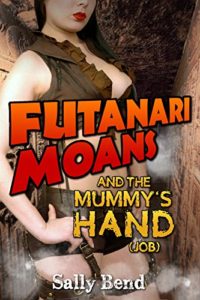 Futanari Moans is the world's only futa, which also makes her the world's only futa adventure. And today she's in Egypt. She needs to recover the hand of a mummified Egyptian queen. She'll have to brave the dangers of the tomb and do it with all the problems of being a futa.
Because she is hung, she is horny, and that means she's in constant need of some self-loving. Good thing her futa-appendage is long enough for some oral delight. But things heat up for her when she reaches the mommy and pulls off one hot hand (job).
This story is a fun read. A mix of action, adventure, and hot erotica. Even when she gets to the mummy part, Bend manages to make that part titillating. This is the start of a great futa erotica series. If you're find of imaginative erotica and hot futas, then you need to check out this well-written short!
I give 'Futanari Moans and the Mummy's Hand (Job)' 4.5 of 5 filled condoms! At $2.99, this futa adventure will take your eReader on one wild ride!
You can buy it from Amazon!






by








by