How hot is… 'Blowjob from your Stalker'?
by Patient Lee

reviewed by Reed James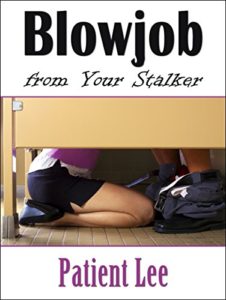 Leigh is so embarrassed that you got this letter. Every year, she's written one to the guy she saw at a party and fallen in love with. Yes, she's never talked to the guy, and yes she writes a letter each year trying to get the courage to send it to him. But that totally doesn't make her a stalker. Even if she follows your movements and knows where you live.
Every year, she tells a different version of how she imagines your first meeting would have gone. How she would come up to you, flirt with you, and then take you into the bathroom and demonstrate her oral skills.
This is a fun read. It's a mix of first and second person, with the narrator, Leigh, describing all the things she would do to you, the reader. It's a great way to write POV erotica while at the same time letting the personality of the narrator, and the one performing her naughty act of fellatio, upon you, the reader.
It's short, but hot, and well worth giving it a read!
I give 'Blowjob from Your Stalker' 4.5 of 5 embarrassing letters! At $0.99, this naughty tale will give your eReader a hummer to remember!
You can buy it from Amazon!






by








by