How Hot is 'Dark Reflection (Book 3 of The Succubus)'?
by Alana Church

reviewed by Reed James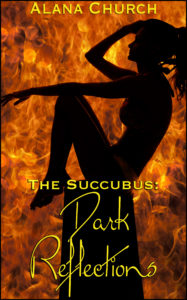 Things are heating up for Rachel Wainwright and her family. Thanks to the succubus Althea's possession, the woman's sexual life is flourishing. Her ex-husband has returned, wanting to repair their marriage, and their love life. Sex has never been better for her.
But the succubus inside of her is affecting her family. Her son is aching to dominate the sexy, Latina maid while her daughter is having the hots for the one man she shouldn't: her father. How will Rachel handle the changes to her family and their sexual awakening.
Will she let them follow her down the path of wanton lust? And what does it mean to be the host of a succubus?
Dark Reflection plunges us back into this naughty tale. Church continues to tease us on the incest front, but progress is being made in that direction. And now that the maid is living in the house, some hot sex is happening. This book brims with erotic potential.
It's also adding more of the lore, expanding Althea's origins. Rachel has a mission now just outside of enjoying her blossoming sexuality: finding Althea's real body? Because if the succubus stays in Rachel too long, bad things will start happening.
It's a great addition to the story. It hurtles forward and makes me eager to read part 4!
I give 'The Devil's Plaything' 4.5 of 5 naughty maids! At $2.99, 'Dark Reflections' will show your eReader its true passions!  You can buy it at Smashword!
Check out Alana Church's Smashword Author Page for more taboo erotica, like her Facebook page, and follow her on twitter @ChurchOfErotica.






by








by