How hot is… '
Futa Ranch: Krystal's Story

'?
by JC Winchester

reviewed by Reed James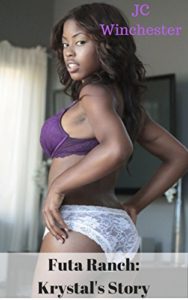 After a mysterious comet passed by Earth, women started turning into futas, growing that extra bit beneath that skirt. The virgin Krystal is one such girl. Unsure where she fits in the world now, she's drawn to the Futa Ranch of Nevada, a place were futas are admired.
A place where a naughty woman can pay to spend a night with futa!
Krystal is in for one hot education as her fellow futas break her in and get her ready for the paying customers. She'll be plunged into hot and heavy passion and using her new, naughty bits for the enjoyment of all!
JC Winchester's first plunge into futas is a home run. Winchester has captured both the fun and sexiness of the genre, opening up a world that is rich with opportunity whether at his naughty ranch or at other locales. I'm eager to see what other hot fun he can have in the genre!
Fans of futas need to read this story!
I give 'Mermaids Rescue' 5 of 5 futa-prostitutes! At $2.99, 'Futa Ranch: Krystal's Story' will give your eReader one hot futa night! Available from Amazon.  You can find the catalog of JC Winchester's work on Amazon. Like him on Facebook, and follow him on twitter @jagfarlane.






by








by