How hot is… 'Futaberry Slutcakes 1: Futaberry Patch'?
by Bryce Calderwood

reviewed by Reed James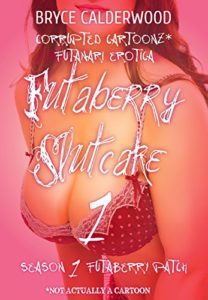 Dillon Masters loves drawing futas. He loves inking in those girls with their huge, extra bits. Hung dickgirls just firing their sweet cream over anything. When he gets hooked up with a new program for drawing, he is in for one shock.
His newest creation, Futaberry Slutcakes comes to life. Before Dillon knows it, he's transformed into a she. Into a futa. Dillon has become the very thing she created. And she's going to enjoy every bit of it. Especially when another of her naughty futa drawings shows up.
Futaberry Slutcakes is in for one wild time!
Once again Calderwood has penned another hot erotica, and this time brimming with one of my favorite kings. Women with both their holes and a huge, throbbing shaft just bursting with cream. This story is one hot futa tale, just brimming with excitement on every page. If you're a fan of this genre, check out this hot tale.
I'm looking forward to the next part!
I give 'Futaberry Slutcakes Season 1: Futaberry Patch' 5 of 5 sweet tasting spunk! At $2.99 suck your eReader into a world of hot, sexy futas! You can buy it from Amazon!
Check out Bryce Calderwood's Amazon Author Page for more exciting, smutpunk erotica and like him on Facebook.






by








by