Futanari Valentine's Day Passion
Valentine's Futa Surprise 1
My new futa release set in the Aphrodite Sisterhood Universe. All my futa stories take place in the same universe, with connections between them. You can read more about the futa cheerleaders in Futa Shakes Her Pompoms (Futanari Cheerleaders 1). Futa's Wild College Party can be picked up for $2.99 on Amazon, Amazon UK, Amazon CA, Amazon AU, Amazon FR, and Amazon DE!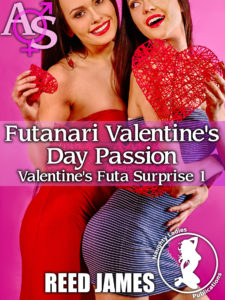 Dumped on Valentine's day, a hot woman discovers futa passion!
Eros, the Futa-Goddess of Love, is eager to spread her salty futa-passion on Valentine's Day. If Aphrodite can make futas, why not her? And she knows just who to gift with something extra beneath her skirt.
Monica is having a terrible Valentine's Day. Dumped while at dinner, she needs her true love. And Eros knows just who: the sexy waitress.
If Monica can find the courage to kiss the waitress, she'll be transformed by futa-love!
You have to read this wicked Valentine's Day story to see how hot it gets!
Futanari Valentine's Day Passion is a 7200 word futa-on-female, futa-on-futa, oral, 69, DP, workplace, waitress, body modification, supernatural erotica that is not for the faint of heart.
A story of the Aphrodite Sisterhood Universe!






by








by