Review of 'I'm Sawree'
by B.B. Blaque

reviewed by Reed James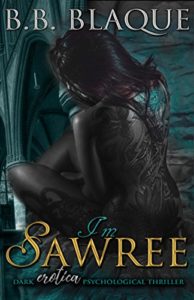 "I'm Sawree." Broken, twisted, haunted by the nine murders she witnessed, Sawree Reese struggles to survive in a shattered world. Hating her older sister always trying to get her to live by society's rules, she loses herself in her art and in her passions. She craves the physical and the visceral.
And above all she craves Sterling. A demon in the form of a man. Only with him can Sawree fine peace. Beneath his domination, drinking in the pain and ecstasy found in submission. But will he be her salvation, or will he destroy her?
I'm Sawree delves into the dark psyche of it's title character. Blaque is in her elements, diving into the black depths of the human soul in this erotic thriller. The writing is Blaque at her best. She just gets better and better with every book she writes.
You have to read this book to find out all the dark and curving twists!
I give 'I'm Sawree' 5 of 5 surreal paintings! At $0.99, 'I'm Sawree' take your eReader on a journey into the darkness of the human soul!
Available from Amazon. And check out B.B. Blaque's blog, like her on facebook, and follow her on twitter @BBBlaque1.






by








by