How hot is… 'Soccer Mom'?
by Amber Skye

reviewed by Reed James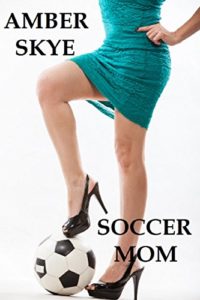 Marie is out of town taking her son to a soccer tournament. And she has to deal with Kendall, the bitchiest soccer mom around. Marie cannot stand the dominating arrogance of Kendall. Everything has to be done Kendall way, and her personality runs right over everyone who gets in her way.
Which is how Kendall ends up staying in Marie's hotel room. When a mixup with the rooms happens, Kendall has no place to stay. Marie is the only woman with a king-sized bed, so she just barges in and immediately sets up like its hers. Aggravated by Kendall antics, Marie loses her temper.
Kendall needs to be spanked.
But when Marie pulls Kendall over her lap and begins spanking her pretty bottom, Marie realizes Kendall is getting turned on. And so is she. Memories of her lesbian flings in college with a submissive sorority sister burns hot and Marie finds herself dominating Kendall.
Lesbian dominance burns hot as Marie revels in turning the bitch into her personal slave.
Soccer Mom is one hot tale, full of naughty, lesbian encounters as Marie revels in her power over the secretly kinky Kendall. The two women go hot and heavy over and over, taking every opportunity they can to share passionate delights. The Sapphic pleasure burns hot.
Skye paints one hot tale of lesbian lust. If you're a fan of two women going at it, complete with spankings and toys, then you have to check out Skye's Soccer Mom!
I give 'Soccer Mom' 5 of 5 bitches spanked! At $2.99, 'Soccer Mom' will dominate your eReader into a weekend of lesbian delights!
You can buy it from Amazon!






by








by