Exploring the Nubile Fembot
Fembot Harem 10
Scott Nelson gets quite a surprise when his company gives him a sexy fembot to test! And that's just the start of his naughty fun! You can buy Exploring the Nubile Fembot for $2.99 on Amazon, Amazon UK, Amazon CA, Amazon AU, Amazon FR, and Amazon DE!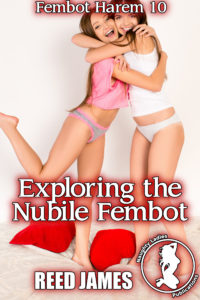 The nubile Natasha will do anything to explore the naughty fembot!
Natasha, a young coed, is amazed by Annie. The nubile fembot is so lifelike the robotic student can't tell the difference. The nerdy hottie will do anything to study the naughty fembot.
Including serving Annie's hunky owner.
Natasha's willing to submit to anything. To explore the nubile sexbot's naughty form, she'll have to prove her devotion to Scott. His harem is about to grow longer.
But while Scott's having his fun, Becky's gotten herself into trouble. The busty fembot will have to think fast to get out of her predicament!
You have to read this naughty tale to find out what happens!
Exploring the Nubile Fembot is a 7800 word harem, sexbot, sexy scientist, SciFi, menage, creampie, oral, anal, A2M, domination/submission, bondage, cop, coed, exhibitionism, voyeurism, public, toys, MILF, hot wife, cheating, roleplay erotica that is not for the faint of heart!






by








by