How hot is… 'My Mommy's Got Your Daughter! Story Two: The Budding Artist'?
by Kay Brandt

reviewed by Reed James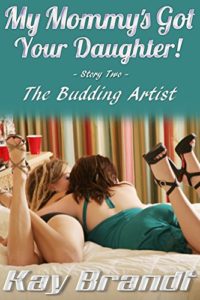 Concerned for her step-daughter Sarah morning her biological mother's death, Melinda decides she knows how best to help her daughter: a mother/daughter art class. But this art class is something different. It is Bella and her naughty daughter Leigh.
Sarah is in for a wild time as the two wicked mothers swap daughters. Melinda and Leigh sneak off to have their naughty fun while Bella comforts the grieving, young Sarah. The two MILFs have a hot time with the younger women in this naughty, taboo erotica!
Kay Brandt writes one hot lesbian erotica. Passion brims on the page as the mothers swap daughters. You get two different, but hot, lesbian stories intertwined together. If your a fan of the taboo, and hot women loving each other, then you have to check out this hot quickie.
I need to check out more of Kay Brandt's 'My Mommy's Got Your Daughter' series!
I give 'My Mommy's Got Your Daughter! Story Two: Budding Artist' 4.5 of 5 daughter-swapping moms! At $0.99, this hot, lesbian erotica will seduce your eReader into one hot swinging time!
You can buy it from Amazon!






by








by