How Hot is 'Demon Futa Takes Revenge'?
by Jocelyn Saragona

reviewed by Reed James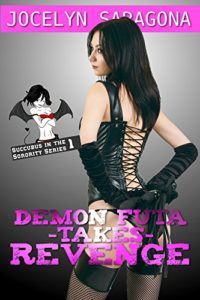 Sharis, a futa succubus, belongs to a sorority that loves to get wild. Thanks to her futa influences, they have found their own side-business, making money with their bodies. But when one of their members, Lisa, gets too wild at a party and has sex for all to see, the sorority is in jeopardy.
One of the people attending the party recorded it and are blackmailing the sorority. Their reputation will be ruined unless they pay thousands of dollars. Sharis, feeling guilty because her futa seed helped to drive Lisa wild, wants to do anything to ensure that the tape is recovered.
Even if it means summoning a futa demon to do it!
Demon Futa Takes Revenge is the start of a new series of futa stories that continue from Sharis's awakening in a previous series. But Saragona does a great job getting you caught up on the details to read this tale without it.
And this tale is a lot of fun. The girls of Sharis's are wild. Her futa seed empowers the girls, making them sexy and irresistible. So she has plenty of chances to use it. While the sex scenes could be a little more fleshed out, there are a lot of them and varied from oral, exhibitionism, voyeurism, to hot menage with two sexy futas!
If you're a fan of futas, check out Saragona's growing adventures of the Succubus in the Sorority! You will not be disappointed in the naughty fun Sharis and her extra bit get into!
I give this book 4.5 of 5 magical cum! At $2.99, 'Demon Futa Takes Revenge' will summon a naughty futa to drive your eReader wild! You can buy it at Amazon!
Check out Jocelyn Saragona's Amazon Author Page for more futa erotica, like her Facebook page, and follow her on twitter @lafemmesaragona.






by








by