The Mage's Passion
The Knight and the Acolyte 2
In Erasthay, a world of sex and magic, a young knight and a nubile acolyte are sent on an impossible quest: to kill the dragon Dominari! Plunged into an erotic world of sexy warriors, futanari elves, and naughty monsters, the knight and the acolyte discover their true passions! You can buy The Mage's Passion, a full-length fantasy erotic novel for $4.99 on Amazon, Amazon UK, Amazon CA, Amazon AU, Amazon FR, and Amazon DE!
Click here to see the maps of the World of Erasthay!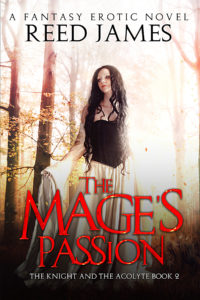 The busty knight and her naughty acolyte's sultry quest continues!
Angela and Sophia's quest to slay the dragon Dominari continue. United by their burgeoning love, the knight and the acolyte have to reforge an ancient sword to defeat the marauding dragon. Accompanied by the futanari elf, Xera, and the sexy mage, Faoril, they journey north to the lands of the orcs.
Their only hope of crossing the dangerous lands is Thrak, a hulking orc barbarian. Can Angela and her companions trust the orc? Or will his wrath lead them to disaster?
But crossing the orc lands isn't the only problem they face. Dark forces want their quest to fail. The dread warlock Fireeyes has found a way to survive death. And he will have his revenge upon the sexy knight and her naughty acolyte! Will Angela and her acolyte achieve their goals, or will their enemies destroy them?
You have to read this hot, erotic adventure full of spanking passion, lesbian domination, brawny barbarians, futanari elves, and sexy mages to find out!
This full length erotic novel contains: exhibitionism, voyeurism, menage, oral, anal, A2M, creampie, BDSM, bondage, spanking, group fun, monsters, tentacles, witch, supernatural, elves, futa-on-female, first time, lesbian, and more! This hot tale is not for the faint of heart!






by








by