Futa's Taobo Valentine Discovery
Valentine's Futa Surprise 2
My new futa release set in the Aphrodite Sisterhood Universe. All my futa stories take place in the same universe, with connections between them. You can read more about the futa cheerleaders in Futa Shakes Her Pompoms (Futanari Cheerleaders 1). Futa's Wild College Party can be picked up for $2.99 on Amazon, Amazon UK, Amazon CA, Amazon AU, Amazon FR, and Amazon DE!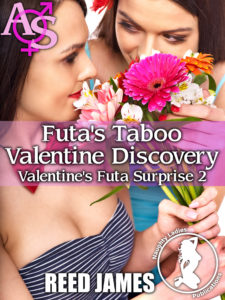 The futa-goddess spreads taboo valentine delight to a MILF and a nubile girl!
June feels bad for the widowed MILF. Seeing her loneliness, June aches to brighten her Valentine's Day. Sensing the girl's need, Eros, the wicked futa-goddess of love, spreads her salty passion!
Bathed in the futa-goddess's love, June and the hot MILF are in for one wild Valentine's Day. Their forbidden passion will explode between the two as they discover all the changes the futa-goddess has given.
You have to read this romantic futa-tale to see how naughty it gets!
Futa's Taboo Valentine Discovery is a 7100 word futa-on-female, futa-on-futa, oral, anal, titty fun, body modification, taboo, MILF, older woman/younger woman, first time, supernatural erotica that is not for the faint of heart.
A story of the Aphrodite Sisterhood Universe!






by








by