The Futa-Socialite's Naughty Morning
The Naughty Futa Socialite 1
My new futa release set in the Aphrodite Sisterhood Universe. All my futa stories take place in the same universe, with connections between them. You can read more about Phoebe's divorce in Hot Wife Spurned (Futa Divorce Laywer 1). The Futa-Socialite's Naughty Morning can be picked up for $2.99 on Amazon, Amazon UK, Amazon CA, Amazon AU, Amazon FR, and Amazon DE!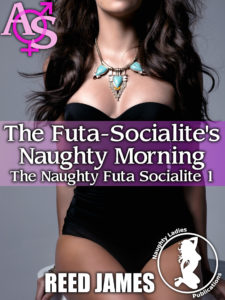 The naughty futa-socialite enjoys a wicked morning with a hot wife!
After her divorce, Phoebe is enjoying her new life. Now a mature futa, she enjoys her relaxing morning. But when Pierce Davenport and his lovely and sexy wife, Chastity, drop by, she finds a new way to have fun.
Pierce needs something from the futa-socialite, but can he pay the price? Can he watch while the futa-socialite enjoys his sexy wife for breakfast? Phoebe's futa-passion aches to cuckold the rich man.
You have to read this naughty futa-tale to find out how hot it gets!
The Futa-Socialite's Naughty Morning is a 7500 word futa-on-futa, futa-on-female, oral, hot wife, cuckolding, wimp husband, voyeurism, interracial erotica that is not for the faint of heart.
A story of the Aphrodite Sisterhood Universe!






by








by