The Devil's Pact Part 43
The Daughter's Passion
The Devil's Pact is a long, mind-control erotic story! All Mark wanted was to get laid. He had no idea the pandora's box he opened when he sold his soul for three wishes: A long, healthy live; unlimited sexual stamina; and the power to control people with his words! The Daughter's Passion is available for $2.99 at Smashwords.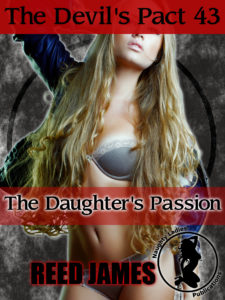 The daughter's passion explodes across her parent's life in the conclusion of The Devil's Pact!
Chase, the sexy daughter of Mark and Mary, has grown up in the world they controlled. Her parents now worshiped as gods, Chase has every desire she wants met. The naughty virgin eager for her nineteenth birthday and her first time with her parents.
The nubile daughter aches to lose her virginity to her father.
But can her idealistic life survive the reality of her parents' mind control powers. Can she live with the utter control they wield over the world? Or will she rebel against their? The fate of Mark and Mary rest in their nubile daughter's hands.
You have to read the explosive finale of The Devil's Pact to find out how it ends!
The Daughter's Passion is a 30,000 word mind control, incest, father/daughter, mother/daughter, grandfather/granddaughter, family, sex slave, virgin, exhibitionism, voyeurism, oral, anal, dominating/submission erotica that is not for the faint of heart!






by








by