Officer Cindy & Deidre's Hot Menage
Futa Fairies' Naughty Game 9
A naughty futa-fairy is granting wishes and making naughty girls and wicked women into futanari! You can buy Mrs. Fatima & Keily's Wicked Fun for $2.99 on Amazon, Amazon UK, Amazon CA, Amazon AU, Amazon FR, and Amazon DE!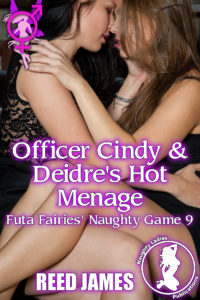 The futa-fairies' naughty game comes to its explosive finish!
The final futas have reached the end of the naughty game! The hot futas writhe in passion as they each seek their explosive finish! Futa-passion explodes as they heave together.
But will Deidre and Keily, futa-lovers on opposite teams reunite? Can they find a way to let both sides keep their extra bits? Or will only one side get to enjoy the fruits of victory?
The futa-fairy tales come to their climatic end!
Officer Cindy & Deidre's Hot Menage is a 14,000 word futa-on-futa, futa-on-female, fairy, magic, oral, anal, DP coed, masturbation, voyeurism, bondage, taboo, pregnancy erotica that is not for the faint at heart!
A Tale of the Futa-Fairy!






by








by