How hot is… '
The Claiming of Snow White

'?
by Bella Swann

reviewed by Reed James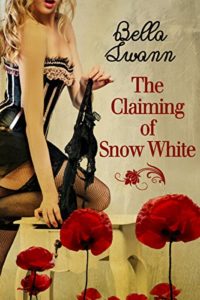 "Mirror, Mirror, on the wall, who is the most desired of them all?" Queen Sonya asks and she isn't happy to learn her step-daughter, Snow White, will soon surpass her. What's a naughty queen to do? Send the Huntsman to dispatch the poor princess.
Of course, the Huntsmen is only human, and Snow White's lush body is so desirable. What follows is the naughty retailing of Snow White in the way only Bella Swann could do it. Snow White is molded into a submissive woman, trained to be used by the men around her: the Hunstmen, the seven dwarves, and King Nero.
As you can expect, dirty sex abounds as Snow White is spanked, played with, and dominated by the various men in her lives. The naughty girl goes from one to the next, discovering new pleasures bursting in her body as she discovers submission and humiliation are what she turly craves.
But what happens when it is learned Snow White's still alive? And will Queen Sonya discover what's it like to be a submissive pet for men? You'll just have to read this naughty tale to find out.
Swann is at her most devious, most filthy minded with this story. And it is glorious. Snow White discovers all the joys to be had in submission, and the men (particular those seven dwarves) keep finding new things to do to her nubile form. This hot tale will have you aching for your own submissive princess to play with!
It is great to read another naughty tale from Bella Swann!
I give this book 5 of 5 bloody panties! At $4.50, 'The Claiming of the Snow White' will show you just why Snow White's "the most desired of them all!"
Available from Amazon, Amazon CA, Smashwords, and Google Play. You can find the catalog of Bella's work on Amazon, Smashword, and Lulu. Check out Bella's goodread blog, her youtube channel, like her on facebook page, and follow her on twitter @BellaSwannBooks.






by








by