Iris's Futa Exploration
Amish Wife's Futa Passion 2
Everything changes in a quite Amish community when the futa-succubus visits a young Amish girl in her dreams! You can buy Iris's Futa Exploration for $2.99 on Amazon, Amazon UK, Amazon CA, Amazon AU, Amazon FR, and Amazon DE!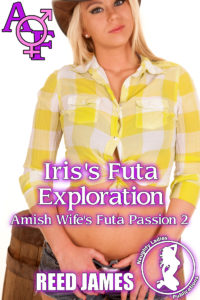 The Amish wife explores her new futa-passion!
After her taboo affair with the naughty Beth, an Amish futa, Iris finds herself visited by the futa-succubus! Realizing this is her chance to get her own extra bit, the Amish wife leaps at the chance.
Now she's eager to explore her new futa-passion! But can she keep her husband from discovering what she's become? Or will her futa-desires throb too hard!
You have to read this futa-erotica to discover how hot it gets!
Iris's Futa Exportation is a 7100 word futa-on-female, futa-on-futa,, Amish, succubus, demon, supernatural, solo fun, oral, 69, anal, hot wife, cheating, cuckolding, older woman/younger futa, MILF, taboo erotica that is not for the faint at heat.
A Story of the Amish Futas!






by








by